You have selected English as the language for this page. Unfortunately, your requested product is currently only available in German.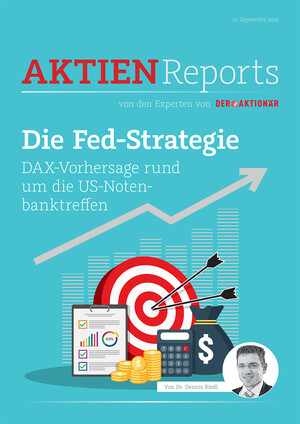 Die Fed-Strategie
Date of publication: 9/11/2019
Pages: 12
Author: Dr. Dennis Riedl
Satte Gewinne mit dem Fed-Tradingsystem

inkl. Zertifikat für die Fed-Sitzung am 17./18.09.

Die Fed bewegt die Finanzmärkte. Acht mal im Jahr treffen sich die amerikanischen Notenbanker zu ihren zweitägigen Sitzungen. Schon im Vorfeld wird wild spekuliert, ob der Leitzins beibehalten oder gesenkt wird und wie sich das weitere Vorgehen gestaltet. Wenn Jerome Powell dann vor die Presse tritt, hängt die gesamte Finanzwelt an seinen Lippen, um die Äußerungen zu interpretieren und die Kursnotierungen schlagen teils vehement aus.

Dr. Dennis Riedl, Mathematiker und Experte für technische Analyse bei DER AKTIONÄR, hat die Kursentwicklungen an den deutschen und amerikanischen Börsen während aller Fed-Sitzungen der letzten Jahre studiert – und erstaunliche Regelmäßigkeiten entdeckt. Auf Grundlage dieser spektakulären Erkenntnisse hat er ein Tradingsystem entwickelt, das die Fed-Sitzungen nutzt, um den DAX deutlich zu schlagen.

Bereits bei der nächsten Fed-Sitzung am 17./18.September lässt sich die Strategie voraussichtlich anwenden. Mit dem Report wird eine Zertifikate-Empfehlung geliefert, die speziell auf diese Tage zugeschnitten ist. Lassen Sie die Fed für Ihr Depot arbeiten.

Preise können je nach Land variieren. Der Rechnungsbetrag ist innerhalb von 14 Tagen ab Bestelleingang zu begleichen.