You have selected English as the language for this page. Unfortunately, your requested product is currently only available in German.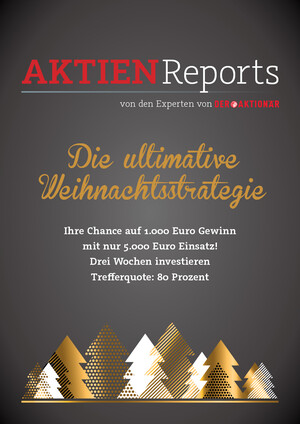 Die ultimative Weihnachtsstrategie: Mit besonderem Turbo im Bullenmarkt! Ziel: 20% in nur drei Wochen
Date of publication: 12/9/2019
Pages: 6
Author: Dr. Dennis Riedl, Stefan Sommer, Stefan Limmer
Erscheinungsform: PDF Download
Einstieg der Strategie war am 16.12.19

Die Zeit rund um Weihnachten und Neujahr ist statistisch die beste Börsenzeit des Jahres – der DAX neigt zu einer vorweihnachtlichen Rallye. In Hausse-Jahren sind die Chancen hierfür sogar nochmals besser. Und mit der Weihnachtsstrategie nutzen Sie genau diesen, sich jährlich so nur einmal bietenden Vorteil.

Im Backtest der Strategie ließen sich seit 1959 jährlich durchschnittlich 20 Prozent Rendite erzielen – innerhalb von gerade einmal drei Wochen. Das ist mehr als der DAX im ganzen Jahr erreicht, und das bei einer Trefferquote von rund 80 Prozent. Der Spezialreport erklärt die gesamte Strategie und die konkrete Durchführung vom Ein- bis zum Ausstieg.

Preise können je nach Land variieren. Der Rechnungsbetrag ist innerhalb von 14 Tagen ab Bestelleingang zu begleichen.