You have selected English as the language for this page. Unfortunately, your requested product is currently only available in German.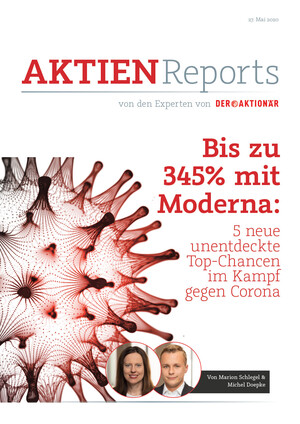 Bis zu 345% mit Moderna: 5 neue unentdeckte Top-Chancen im Kampf gegen Corona
Date of publication: 5/27/2020
Pages: 9
Author: Marion Schlegel, Michel Doepke
Erscheinungsform: PDF Download
Satte 344,6 Prozent. Das war der Kursgewinn, den die Käufer des letzten Aktienreports von Marion Schlegel und Michel Doepke mit dem darin vorgestellten Titel erzielen konnten. Moderna hieß der potenzielle Highflyer von damals und er macht bis heute diesem Prädikat alle Ehre. Lohnt sich ein Zukauf, sollten besser Gewinne mitgenommen werden, ist ein Einstieg immer noch möglich? Der neue Aktienreport liefert Antworten auf sämtliche Fragen und bewertet die aktuelle Entwicklung des Unternehmens in einem Update.

Dazu präsentieren die Biotech-Experten fünf brandneue Empfehlungen rund um das Thema Corona, die allesamt das Potenzial haben, den Markt klar outzuperformen. Wieder handelt es sich um Hidden Champions, die noch nicht in den gängigen Börsenmedien besprochen werden und deshalb noch zu attraktiven Kursen zu haben sind. Wieder kann es innerhalb kürzester Zeit enorm in die Höhe gehen und wieder sind es die Leser des Aktienreports, die als Erste von den Wachstumschancen profitieren können. Sichern Sie sich jetzt das Moderna-Update sowie die fünf Kandidaten für einen neuen Höhenflug.

Preise können je nach Land variieren. Der Rechnungsbetrag ist innerhalb von 14 Tagen ab Bestelleingang zu begleichen.