You have selected English as the language for this page. Unfortunately, your requested product is currently only available in German.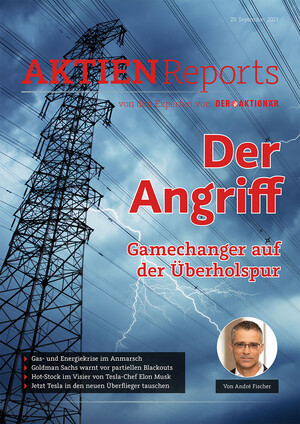 Der Angriff - Gamechanger auf der Überholspur
Date of publication: 9/29/2021
Pages: 10
Author: André Fischer
Der Großhandelspreis für Gas legte binnen zwölf Monaten um gut 450 Prozent zu. Goldman Sachs warnte daher vor einem im Winter drohenden Blackout angesichts niedriger Gasvorräte in Europa. Parallel hierzu senkte die US-Bank ihre Prognose für das chinesische Wirtschaftswachstum in diesem Jahr, da Lieferengpässe bei Kohle in dem Riesenreich zu einer Stromknappheit geführt haben.

Im Aktienreport "Der Angriff" lesen Sie, welche Tech-Firma von der bevorstehenden Energiekrise profitieren dürfte. Der wachstumsstarke Energieausfall-Spezialist kann auf eine potenziell revolutionäre Plattform mit neuester Zelltechnologie verweisen.

Da die emissionsfreie Plattform auch für den E-Mobility-Bereich interessant ist, soll der Hot-Stock kürzlich sogar ins Visier von Tesla-Chef Elon Musk geraten sein. Weitere interessante Einzelheiten finden Sie jetzt in dem neuen 10-seitigen Aktienreport "Der Angriff".

Preise können je nach Land variieren. Der Rechnungsbetrag ist innerhalb von 14 Tagen ab Bestelleingang zu begleichen.