You have selected English as the language for this page. Unfortunately, your requested product is currently only available in German.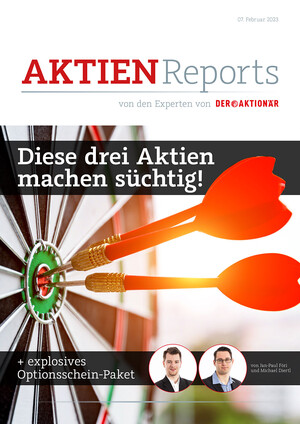 Diese drei Aktien machen süchtig!
Date of publication: 2/7/2023
Pages: 9
Author: Jan-Paul Fóri, Michael Diertl
Vorsicht, Suchtgefahr – diese 3 Top-Aktien liefern jetzt enormes Gewinnpotenzial

Cannabis, Heroin oder Kokain – drei Reizwörter, wenn es um das Thema Drogen und Sucht geht. Nicht weniger abhängig machen drei in Deutschland völlig legale Substanzen. Täglich greifen Abermillionen zu. Für die Produzenten ist dies ein lukratives Geschäft – von dem auch Anleger jetzt profitieren können.

Für den neuen Aktien-Report "Diese drei Aktien machen süchtig" hat die AKTIONÄR-Redaktion die Top-Player identifiziert, die auch in Zeiten hoher Inflation ein starkes Investment darstellen und zusätzlich eine solide Dividendenrendite bieten. Dabei könnten die im Report vorgestellten Aktien kaum unterschiedlicher sein: Während der erste Konzern hierzulande beheimatet ist, hat der zweite Top-Player seiner Branche seinen Sitz im Vereinigten Königreich und die Nummer 3 hat eine weitverzweigte bilaterale Vergangenheit vorzuweisen.

Lassen Sie sich diese lukrative Chance mit 3 Top-Playern nicht entgehen. Zusätzlichen Zündstoff für maximale Gewinne bietet Ihnen zudem das mitgelieferte Turbo-Optionsscheinpaket mit konkreten Ein- und Ausstiegspunkten.

Preise können je nach Land variieren. Der Rechnungsbetrag ist innerhalb von 14 Tagen ab Bestelleingang zu begleichen.