You have selected English as the language for this page. Unfortunately, your requested product is currently only available in German.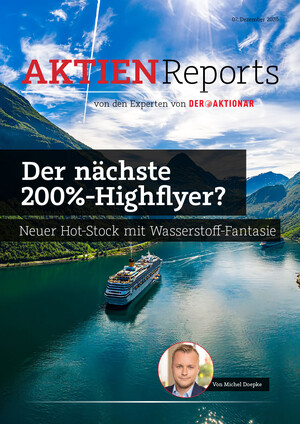 Nach Nel und Ceres: Nächster Wasserstoff-Hot-Stock
Date of publication: 12/7/2020
Pages: 9
Author: Michel Doepke
Wasserstoff- und Brennstoffzellen-Aktien stehen unverändert hoch im Anlegerkurs. AKTIONÄR-Redakteur Michel Doepke hat rechtzeitig große Gewinner der Szene ausfindig gemacht. Unter anderem stellte der Experte in Aktienreports die Highflyer Nel und Ceres Power vor, bevor diese von der breiten Masse entdeckt wurden.

Auf dem Weg zum Tenbagger

Kaum zu glauben, aber wahr: Doepke empfahl im Aktienreport "Mobilität der Zukunft – 150%-Chance mit diesem Nischen-Player" die Aktie von Nel zu Kursen um die 0,30 Euro (Oktober 2017). Vor Kurzem ist der norwegische Wasserstoff-Wert auf über 2,40 Euro gestiegen. Anleger konnten somit satte 700 Prozent einstreichen.

Und auch die Aktie von Ceres Power hatte der Ver10facher-Chefredakteur frühzeitig auf dem Kurszettel. Im Oktober 2018 notierte der britische Wert noch bei 2,25 Euro. Gut zwei Jahre später zahlen Anleger schon über 11,30 Euro je Aktie. Auch hier konnten Leser mittlerweile 400 Prozent Kursgewinn verbuchen.

Der nächste Streich

Doch Doepke gibt sich damit nicht zufrieden. Vor Kurzem ist er auf ein neues Unternehmen gestoßen, welches ebenfalls im aufstrebenden Cleantech-Bereich aktiv ist. Auch diese Gesellschaft ist von der Masse noch weitgehend unentdeckt und fristet ein Schattendasein. Noch.

Sie wollen den noch relativ unbekannten Micro Cap inklusive Vorstandsinterview kennenlernen? Dann sichern Sie sich jetzt den neuen Aktienreport "Der nächste 200%-Highflyer? – Neuer Hot-Stock mit Wasserstoff-Fantasie". Hinweis: Aufträge sollten aufgrund des geringen Handelsvolumens streng limitiert werden.

Preise können je nach Land variieren. Der Rechnungsbetrag ist innerhalb von 14 Tagen ab Bestelleingang zu begleichen.