You have selected English as the language for this page. Unfortunately, your requested product is currently only available in German.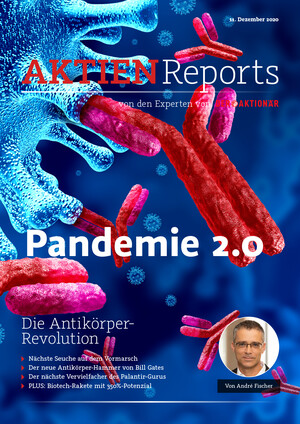 Pandemie 2.0/Die Antikörper-Revolution
Date of publication: 12/11/2020
Pages: 15
Author: André Fischer
Bill Gates gilt als bester Investor aller Zeiten. André Fischer empfahl in seinem Aktienreport "Corona-Schutz-Report" die Moderna-Aktie für 26,16 Dollar zum Kauf. Zuletzt stellte der Experte im Report "Der E-Mobility-Killer" eine Gates-Aktie vor, die eine Batterieanwendung für E-Autos entwickelt. Dieser Titel steht heute 98 Prozent höher. Nun legt Fischer mit seinem neuen Report "Die Antikörper-Revolution" nach.

In dem Aktienreport stellt Fischer eine Biotech-Aktie vor, bei welcher "Big Bill" ebenfalls mit von der Partie ist. Diese Biotech-Perle ist der Trendsetter im boomenden Corona-Antikörper-Sektor. Erst kürzlich wurde Donald Trump während seiner Covid-Erkrankung mit einer Antikörper-Therapie behandelt, woraufhin eine rasche Genesung gelang.

Der Antikörper-"Hammer" von Bill Gates dürfte jetzt gewaltig nach oben durchstarten. Mit enthalten im Report: ein Biowaffen-Profiteur, die neue Mega-Wette des Palantir-Großaktionärs im Bereich autonomes Fahren sowie ein Update zur "neuen Amazon". Profitieren Sie jetzt von den neuen Durchbruchs-Wetten der Super-Milliardäre. Für die Leser des Shortseller-Börsenbriefes (www.shortseller.trade) sind alle Sonderreports von Fischer kostenlos.

Preise können je nach Land variieren. Der Rechnungsbetrag ist innerhalb von 14 Tagen ab Bestelleingang zu begleichen.