You have selected English as the language for this page. Unfortunately, your requested product is currently only available in German.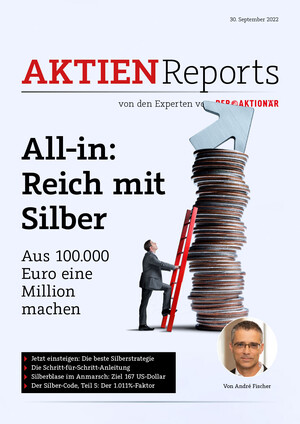 All-in – Reich mit Silber
Date of publication: 9/30/2022
Pages: 9
Author: André Fischer
Stellen Sie sich vor, Sie nehmen beim Monopoly-Spiel den Platz der Bank ein. Sie geben jedem Spieler 4.000 Geld-Einheiten, wenn er über das "Los"-Feld geht. Insgesamt spielen fünf Personen mit; unter diesen befindet sich auch Ihr Freund. Es wird um echtes Geld gespielt. Sie als Bank reichen nun an Ihren Freund wiederholt hohe Kredite aus, während alle anderen Spieler keinen Kredit erhalten. Am Ende gewinnt Ihr Freund das Monopoly-Spiel, da seine Mitkonkurrenten die horrenden Mietzahlungen für die Straßenaufenthalte nicht mehr berappen können.

Sie als Bank kassieren von dem Millionengewinn Ihres Freundes 90 Prozent als Provision. Im neuen Aktien-Report "All-in – Reich mit Silber" gibt André Fischer eine Schritt-für-Schritt-Anleitung, wie Sie eine Finanzstrategie finden können, die Ihnen dabei hilft, einen Betrag von 100.000 Euro in eine Million Euro zu verwandeln. Es geht um den Silbersektor und um eine hochprozentige Silber-Aktien-Strategie, welche sich wie ein Optionsschein-Investment mit unbegrenzter Laufzeit verhält.

Der Silberexperte Fischer verrät in dem Report, in welchem Silber-"Blatt" Sie jetzt konsequent "all-in" gehen sollten. In dem Aktien-Report mit enthalten: ein verborgener Auslöser und ein geheimer Indikator, welche das weiße Metall in Kürze in dreistellige Dollar-Regionen befördern sollten. Können Sie es sich leisten, bei der stärksten Silber-Aufwärtsbewegung der Geschichte nicht "voll" mit dabei zu sein? Sichern Sie sich daher jetzt Teil 5 der Sonderserie "Der Silber-Code" in Form des neunseitigen Aktien-Reports "All-in – Reich mit Silber".

Preise können je nach Land variieren. Der Rechnungsbetrag ist innerhalb von 14 Tagen ab Bestelleingang zu begleichen.