You have selected English as the language for this page. Unfortunately, your requested product is currently only available in German.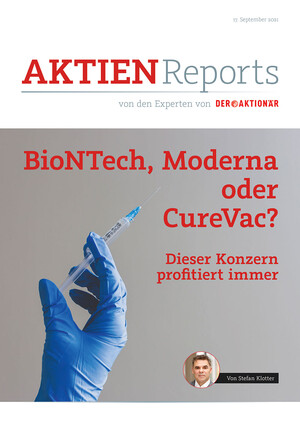 BioNTech, Moderna oder CureVac? Dieser Konzern profitiert immer
Date of publication: 9/17/2021
Pages: 7
Author: Stefan Klotter
Delta- und weitere Varianten, 3G-Regelung, Booster-Impfungen: Corona wird der Welt 2021 und womöglich auch noch weitere Jahre erhalten bleiben. Weltweit liefern sich Pharma- und Biotechunternehmen weiterhin einen Wettlauf um die besten Covid-19-Tests, Impfstoffe sowie um die wirksamsten Therapien mit noch zu entwickelnden Medikamenten.

Wer das Rennen gewinnt, ist für den Charttechnik-Experten und Börsenbriefautor Stefan Klotter unerheblich. Denn der in seinem neuen Aktienreport vorgestellte Konzern profitiert generell von der vorherrschenden Marktlage im Sektor. Die Nachfrage nach cGMP-Plasmid-DNA als essentielles Rohmaterial ist enorm gestiegen. Weiterhin werden enorme Mengen an Laborkunststoffen in Form von Pipetten- und Automatisierungsspitzen, Aufbewahrungsröhrchen und -platten oder Verpackungsfläschchen benötigt. Dazu kommen zuverlässige und belastbare Supply-Chain-Services inklusive End-to-End-Kühlkettenmanagement. In all diesen Bereichen spielt der Global Player im Aktienreport von Stefan Klotter eine führende Rolle. Sie wollen vom enorm großen Aufwärtspotenzial profitieren? Dann laden Sie sich jetzt die aktuelle Ausgabe herunter.

Preise können je nach Land variieren. Der Rechnungsbetrag ist innerhalb von 14 Tagen ab Bestelleingang zu begleichen.