You have selected English as the language for this page. Unfortunately, your requested product is currently only available in German.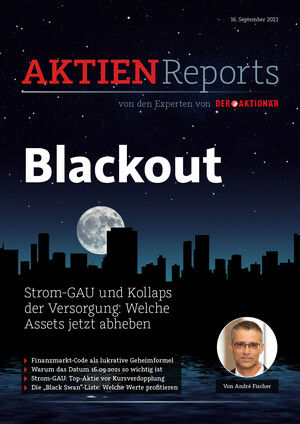 Blackout - Strom-GAU und Kollaps der Versorgung: Welche Assets jetzt abheben
Date of publication: 9/16/2021
Pages: 14
Author: André Fischer
Vor wenigen Tagen kam es zu einem großflächigen Stromausfall in Dresden. Im Stadtgebiet fielen Ampeln aus, Straßenbahnen blieben stehen und mehrere Personen mussten aus Aufzügen befreit werden. Nur kurz darauf waren vorübergehende Blackouts in Wiesbaden, Bielefeld und Rosenheim zu beobachten. Es kann nicht vollständig ausgeschlossen werden, dass diese Stromausfälle nur die ersten Vorboten von umfassenden Störungen und Versorgungsengpässen sind.

André Fischer erklärt in seinem neuen Aktienreport "Blackout", welcher wachstumsstarke Ökostromwert sich angesichts der absehbaren Verwerfungen demnächst im Kurs verdoppeln sollte. Mit enthalten in dem Aktienreport ist eine "Black Swan"-Liste, die vier weitere Anti-Strom-GAU-Werte enthält. Parallel hierzu geht Fischer kurz auf eine geheime Zahlenarithmetik ein, welche für die nahe Zukunft in Bezug auf die globalen Kapitalmärkte konkrete Ausstiegs- und Einstiegssignale vorgibt. Mehr zu diesen Themen lesen Sie jetzt im 14-seitigen Aktienreport "Blackout".

Preise können je nach Land variieren. Der Rechnungsbetrag ist innerhalb von 14 Tagen ab Bestelleingang zu begleichen.