You have selected English as the language for this page. Unfortunately, your requested product is currently only available in German.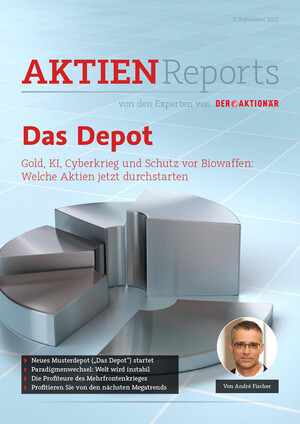 Das Depot
Date of publication: 9/2/2021
Pages: 9
Author: André Fischer
Die Welt um uns herum ist in den letzten Wochen stetig instabiler geworden. Hier sind unter anderem vermehrte Cyberattacken, sich zuspitzende geopolitische Konflikte und die immer stärker nach oben schießende Inflation zu nennen. In einer immer gefährlicher werdenden Welt profitiert zwangsläufig derjenige, welcher ein umfassendes Lösungsgerüst für schwerwiegende Probleme anbieten kann.

Und derartige wachstumsstarke "Problemlöser" finden Sie im neuen 9-seitigen Aktienreport "Das Depot" von André Fischer. Der Börsenexperte hat in dem Report ein Musterdepot aufgelegt, welches die Bereiche Gold, Cybersicherheit, Überwachung sowie Terror- und Biowaffenschutz abdeckt. In diesem Zusammenhang wird ein neues Musterdepot mit acht verschiedenen Werten kurz vorgestellt.

Als zusätzliches Geschenk ist in dem Aktienreport eine aussichtsreiche Raumfahrtfirma enthalten, die demnächst vor einem starken Gewinnschub stehen sollte. Weitere Informationen zu spannenden Entwicklungen lesen Sie jetzt im Aktienreport "Das Depot".

Preise können je nach Land variieren. Der Rechnungsbetrag ist innerhalb von 14 Tagen ab Bestelleingang zu begleichen.