You have selected English as the language for this page. Unfortunately, your requested product is currently only available in German.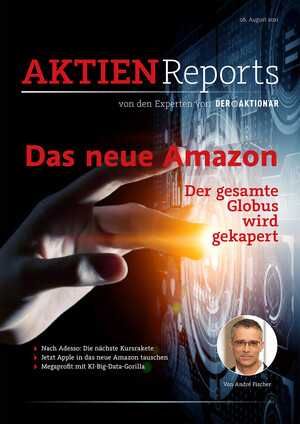 Das neue Amazon
Date of publication: 8/6/2021
Pages: 14
Author: André Fischer
Im Aktienreport "Die neue Amazon" vom 6. November 2020 schlug André Fischer vor, den US-Tech-Giganten Amazon in Adesso zu tauschen. Seit diesem Zeitpunkt konnte der Big-Data-Spezialist um 110 Prozent zulegen, während die Amazon-Aktie im gleichen Zeitraum stagnierte. Nun empfiehlt der Börsenexperte, die Apple-Aktie zu verkaufen und den Erlös in "Das neue Amazon" zu stecken. Dabei handelt es sich um ein hyperschnell wachsendes Unternehmen, das derzeit in den Bereichen Big Data, Datenbanken, KI-Mega-Maschine und Überwachung einen bahnbrechenden Paradigmenwechsel einleitet.

Fischer zeigt auf, wie der neue Börsenstar einen disruptiven Tech-Durchbruch in einem Milliardenmarkt jetzt dazu nutzt, die erfolgreiche Technologie im nächsten Boom-Sektor einzusetzen. Bereits in naher Zukunft dürfte die Firma zu einem unbesiegbaren Daten-"Gorilla" analog zum Amazon-Modell herangewachsen sein. Wenn Sie wissen wollen, auf welche Weise der potenzielle Kursvervielfacher gerade dabei ist, den gesamten Globus zu kapern, sollten Sie jetzt den 14-seitigen Aktienreport "Das neue Amazon" lesen.

Preise können je nach Land variieren. Der Rechnungsbetrag ist innerhalb von 14 Tagen ab Bestelleingang zu begleichen.