You have selected English as the language for this page. Unfortunately, your requested product is currently only available in German.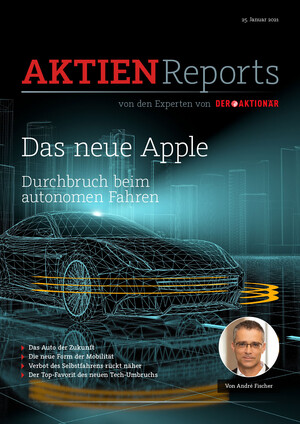 Das neue Apple – das Auto der Zukunft
Date of publication: 1/25/2021
Pages: 13
Author: André Fischer
Erscheinungsform: PDF Download
Das neue Apple – das Auto der Zukunft

Elon Musk verblüffte unlängst mit der Aussage, dass (bald) "der Moment kommen wird, in dem es Menschen verboten sein wird, ein Auto zu fahren". Brisant: Parallel hierzu gelang es einer Tech-Firma, mit hocheffizienten Algorithmen (die das vernetzte Auto steuern) den ultimativen disruptiven Bruch zu erreichen. Und das ist die Königsdisziplin in Form des vollständigen Verzichts auf den Fahrer.

Im 13-seitigen Aktienreport "Das neue Apple – das Auto der Zukunft" beschreibt André Fischer, wie der neue Börsenstar (bei diesem handelt es sich NICHT um Tesla oder Apple) zunächst Fahr- und Logistikdienste mit der revolutionären Robo-Software ausstatten wird – danach sind dann Abo-Leasing-Modelle für Privatkäufer an der Reihe.

Mit enthalten im Report: ein hochexplosiver Hot-Stock, der mit einer einzigartigen Anwendung vom neuen 2.900-Prozent-Markt (das ist das erwartete Marktwachstum in den nächsten Jahren) überproportional profitieren dürfte. Für die Leser des Shortseller-Börsenbriefes (www.shortseller.trade) sind alle Aktienreports von Fischer kostenlos.

Preise können je nach Land variieren. Der Rechnungsbetrag ist innerhalb von 14 Tagen ab Bestelleingang zu begleichen.