You have selected English as the language for this page. Unfortunately, your requested product is currently only available in German.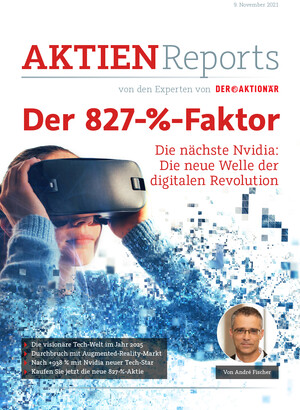 Der 827-%-Faktor
Date of publication: 11/9/2021
Pages: 10
Author: André Fischer
In naher Zukunft führt die Verschmelzung von virtueller und erweiterter Realität (Virtual und Augmented Reality sowie Remote AR/VR) dazu, dass die Anwendungsmöglichkeiten aller Voraussicht nach exponentiell zunehmen. Dieser neue Tech-Umbruch dürfte in Verbindung mit dem neuen Mobilfunkstandard 5G den Eintritt in den Massenmarkt nach sich ziehen und die menschliche Gesellschaft auf tiefgreifende Weise verändern.

In diesem Zusammenhang ist absehbar, dass heute gängige Alltagsgeräte wie Fernseher und PCs bald aus unserem Alltag verschwinden und von neuen bahnbrechenden Anwendungen ersetzt werden. Wenn Sie nach dem 938-%-Anstieg von Nvidia (Report: "Die 1.000-%-Aktie der Sensorrevolution") auch in den neuen 827-%-Tech-Star einsteigen wollen, ist jetzt der Aktienreport "Der 827-%-Faktor" genau das Richtige für Sie.

Preise können je nach Land variieren. Der Rechnungsbetrag ist innerhalb von 14 Tagen ab Bestelleingang zu begleichen.