You have selected English as the language for this page. Unfortunately, your requested product is currently only available in German.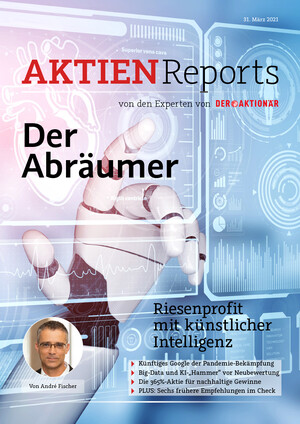 Der Abräumer
Date of publication: 3/31/2021
Pages: 13
Author: André Fischer
Erscheinungsform: PDF Download
Riesenprofit mit künstlicher Intelligenz

Haben Sie schon einmal einen Marathonläufer gesehen, der in der zweiten Hälfte des Rennens immer schneller wird, um dann ab der 30-Kilometer-Marke noch weiter deutlich zu beschleunigen? Wenn Sie jetzt entgegnen, dass dies faktisch unmöglich ist, haben Sie recht. Bei der im Aktienreport von André Fischer "Der Abräumer/Riesenprofit mit künstlicher Intelligenz" zu findenden Aktie könnte es jedoch zu einer derartigen Entwicklung (in Bezug auf die zukünftige Kursentwicklung) kommen. Der von Fischer entdeckte Big-Data-Spezialist hat spezielle Datenbanken aufgebaut, die in der gesamten Branche ihresgleichen suchen.

Der schnell wachsende Pandemie-Profiteur ist in der Lage, mithilfe einer neuartigen Tech-Plattform mittels künstlicher Intelligenz und maschinellem Lernen in kürzester Zeit erhebliche Mengen an wichtigen Daten zu verarbeiten. Fischer rechnet damit, dass die potenziell bahnbrechende KI-Plattform des "Abräumers" bereits in naher Zukunft zu einem neuen Goldstandard avanciert.

Bei dem aussichtsreichen Geheimfavoriten handelt es sich somit um den klassischen "Waffenhändler", der im neuen pandemischen Zeitalter in jedem Fall profitieren sollte. Mit enthalten im 13-seitigen Report ist eine kurze Nachbehandlung von sechs verschiedenen Werten, die in früheren Aktienreports von André Fischer vorgestellt wurden. Diesen Titeln hat der Börsenexperte insgesamt zwei Seiten gewidmet.

Preise können je nach Land variieren. Der Rechnungsbetrag ist innerhalb von 14 Tagen ab Bestelleingang zu begleichen.