You have selected English as the language for this page. Unfortunately, your requested product is currently only available in German.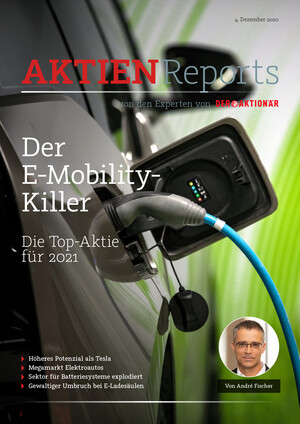 Der E-Mobility-Killer/Die Top-Aktie für 2021
Date of publication: 12/4/2020
Pages: 11
Author: André Fischer
Eine brandneue Studie geht davon aus, dass im Jahr 2030 gut 50 Prozent aller verkauften Autos elektrisch angetrieben werden. Parallel hierzu dürfte die Nachfrage nach Batterien in den nächsten zehn Jahren um satte 2.200 Prozent auf 6.500 Gigawattstunden zulegen.

Zudem gab das Bundeswirtschaftsministerium jetzt bekannt, dass man derzeit einen Vorschlag für ein europaweit einsetzbares Bezahlsystem für das spontane Laden an öffentlichen Ladesäulen für Elektroautos entwickelt. André Fischer enthüllt in seinem neuen Aktienreport "Der E-Mobility-Killer", welcher Titel von diesen massiven Umwälzungen extrem profitieren dürfte.

Fischer sagt voraus, dass der Top-Favorit für 2021 demnächst zum weltweit führenden Anbieter von E-Batteriesystemen aufsteigen wird. Mit enthalten im Report: eine weitere "Monster"-Aktie aus dem Batterie-, KI- und Robotik-Sektor, in welche Bill Gates und Jeff Bezos bereits eingestiegen sind. Den Lesern des Shortseller-Börsenbriefes (www.shortseller.trade) werden diese und alle weiteren Sonderreports von Fischer kostenlos zur Verfügung gestellt.

Preise können je nach Land variieren. Der Rechnungsbetrag ist innerhalb von 14 Tagen ab Bestelleingang zu begleichen.