You have selected English as the language for this page. Unfortunately, your requested product is currently only available in German.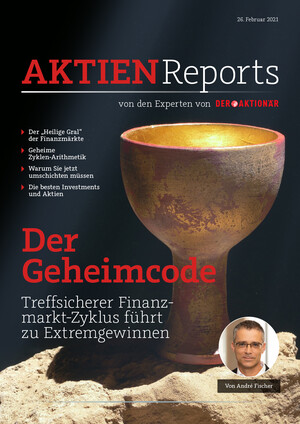 Der Geheimcode
Date of publication: 2/26/2021
Pages: 15
Author: André Fischer
In seinem neuen Aktienreport "Der Geheimcode" nimmt der Börsenexperte André Fischer den "Heiligen Gral" der Finanzmärkte unter die Lupe. Dabei geht es um eine geheime Zahlen-Arithmetik, deren verblüffende Treffsicherheit über einen Zeitraum von mehr als 100 Jahren belegt werden kann.

Dieses effiziente Zyklensystem prognostiziert nun im Hinblick auf die nahe Zukunft ganz konkrete Schlüsselereignisse, die Fischer in seinem Report in detaillierter Form beschreibt. Wer diesen Geheimcode der Kapitalmärkte erst einmal kennt, versteht schlagartig, warum es in jüngster Vergangenheit zu völlig verrückten globalen Entwicklungen gekommen ist.

Auf den ersten zwölf Seiten des Aktienreports "Der Geheimcode" weiht André Fischer den Leser in die Funktionsweise des Zyklensystems ein. Ab der Seite 13 wird dann kurz aufgezeigt, in welche Aktien man jetzt konkret umschichten sollte. Dabei verrät Fischer, welche Anlageklasse der "Heilige Gral" der Finanzmärkte als zukünftigen Outperformer-Markt identifiziert hat.

Preise können je nach Land variieren. Der Rechnungsbetrag ist innerhalb von 14 Tagen ab Bestelleingang zu begleichen.