You have selected English as the language for this page. Unfortunately, your requested product is currently only available in German.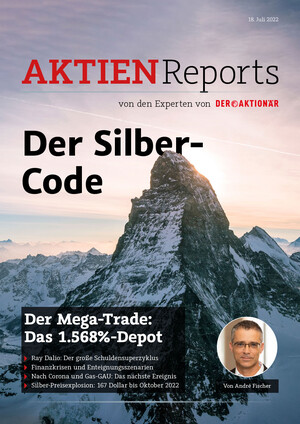 Der Silber-Code
Date of publication: 7/18/2022
Pages: 77
Author: André Fischer
Das ASC-Code-System von "Der Antizykliker" prognostizierte am 1. Juli 2022, dass der Goldpreis in den nächsten Monaten auf 5.000 Dollar je Feinunze vorstoßen wird, während beim Silberpreis mit einer Preisexplosion in den dreistelligen Dollarbereich hinein zu rechnen ist. Im neuen 76-seitigen Aktienreport "Der Silber-Code" ist ein "Silber-Depot" mit neun verschiedenen Silberförderern enthalten, die von dem absehbaren Anstieg des weißen Metalls überproportional profitieren dürften.

Auf den Seiten 65 bis 74 geht es um die Themenbereiche Ray Dalio, Schuldensuperzyklus, Dollar-Öl-Standard, Sabbat-Zyklus und Silber-Kursexplosion. Auf den Seiten davor nimmt Fischer das geheime Muster früherer Finanzkrisen und Enteignungsszenarien unter die Lupe und leitet daraus eine konkrete Voraussage für das zweite Halbjahr 2022 ab.

Sie wollen wissen, mit welchen konkreten Verwerfungen die Kapitalmärkte in den nächsten Wochen konfrontiert werden? Sie haben die Absicht, mit dem bevorstehenden dramatischen Silberpreis-Anstieg in kurzer Zeit Extremgewinne in trockene Tücher zu bringen? Dann sollten Sie rechtzeitig mit der Lektüre des Aktienreports "Der Silber-Code/Der Mega-Trade: Das 1.568%-Depot" beginnen.

Preise können je nach Land variieren. Der Rechnungsbetrag ist innerhalb von 14 Tagen ab Bestelleingang zu begleichen.