You have selected English as the language for this page. Unfortunately, your requested product is currently only available in German.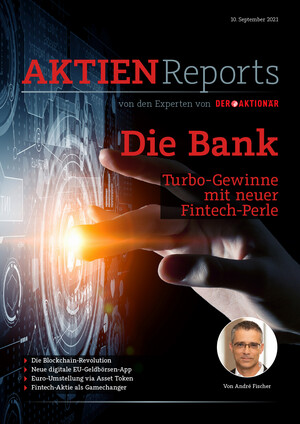 Die Bank - Turbo-Gewinne mit neuer Fintech-Perle
Date of publication: 9/10/2021
Pages: 8
Author: André Fischer
Im Aktienreport "Unser neues Geld" (vom 27.10.2020) empfahl André Fischer Blockchain-Aktien wie Adesso und Zebra Technologies. In seinem brandneuen Aktienreport "Die Bank" geht der Börsenexperte auf aktuelle Entwicklungen im Themenbereich Zentralbankgeld/Blockchain ein.

Der Report behandelt einen finanzstarken Konzern, der derzeit hinter den Kulissen eine spektakuläre Verwandlung zu einer Fintech-Firma mit einer potenziell bahnbrechenden Blockchain-Technologie vollzieht. Einer der weltweit erfolgreichsten Finanzmagnaten hat das hohe Wertsteigerungspotenzial des neuen Blockchain-Trendsetters schnell erkannt.

Die Folge: Der Top-Investor fackelte nicht lange, sondern stieg in den aussichtsreichen Geheimfavoriten mit einer ungewöhnlich hohen Position ein. Wenn Sie mehr zu den wichtigen Themen Krypto-Assets, digitale Wertpapiere, EU-Identitäts-App und digitale Geldbörsen-App erfahren wollen, dann ist der 8-seitige Aktienreport "Die Bank" jetzt genau die richtige Lektüre für Sie.

Preise können je nach Land variieren. Der Rechnungsbetrag ist innerhalb von 14 Tagen ab Bestelleingang zu begleichen.