You have selected English as the language for this page. Unfortunately, your requested product is currently only available in German.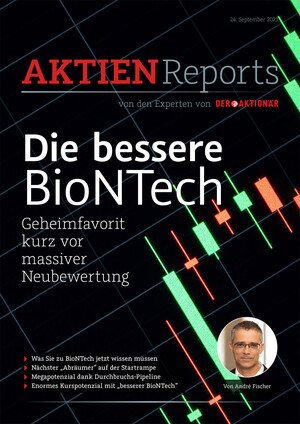 Die bessere BioNTech
Date of publication: 9/24/2021
Pages: 11
Author: André Fischer
Antonio Guterres warnte vor wenigen Tagen auf der UN-Vollversammlung in New York vor den Folgen des Klimawandels: "Wir stehen am Rande des Abgrunds und bewegen uns in die falsche Richtung … Wir stehen vor der größten Kaskade von Krisen unserer Lebenszeit." Anderthalb Jahre zuvor (im April 2020) hatte der UN-Generalsekretär auf eine wachsende Gefahr von Angriffen durch Bioterroristen aufmerksam gemacht. Diese könnten zum Ziel haben, neue Pandemien wie Covid-19 auszulösen.

In seinem neuen Aktienreport "Die bessere BioNTech" behandelt André Fischer einen Biotech-Wert, der von einem derartigen Pandemie-2.0-Szenario (aufgrund des Klimawandels oder hervorgerufen durch Bioterror) überproportional profitieren sollte. Lesen Sie in dem 11-seitigen Report jetzt, warum die "bessere BioNTech" in naher Zukunft im Kurs noch stärker zulegen könnte als der Covid-19-Impfstoffhersteller aus Mainz.

Preise können je nach Land variieren. Der Rechnungsbetrag ist innerhalb von 14 Tagen ab Bestelleingang zu begleichen.