You have selected English as the language for this page. Unfortunately, your requested product is currently only available in German.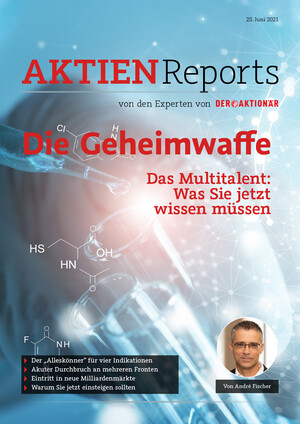 Die Geheimwaffe
Date of publication: 6/25/2021
Pages: 10
Author: André Fischer
Was halten Sie von einem Präparat, welches in mehreren Indikationen gleichzeitig eine hohe Wirksamkeit entfaltet? Es geht also um einen faktischen "Alleskönner"-Wirkstoff, welcher quasi als eine Art "Geheimwaffe" in verschiedenen bisher nicht gut behandelbaren Therapiefeldern eingesetzt werden kann. Ein Biotech-Hot-Stock konnte diesbezüglich zuletzt mit erfreulichen Studienfortschritten aufwarten.

Der kleinen Biotech-Firma winkt angesichts der potenziellen Therapie-Durchbrüche der Einstieg in neue Milliardenmärkte. Da demnächst ein kapitalstarker Pharmapartner präsentiert werden könnte, sollte man mit dem Einstieg nicht zu lange warten. Weitere interessante Details erfahren Sie jetzt in dem neuen 10seitigen Aktienreport "Die Geheimwaffe".

Preise können je nach Land variieren. Der Rechnungsbetrag ist innerhalb von 14 Tagen ab Bestelleingang zu begleichen.