You have selected English as the language for this page. Unfortunately, your requested product is currently only available in German.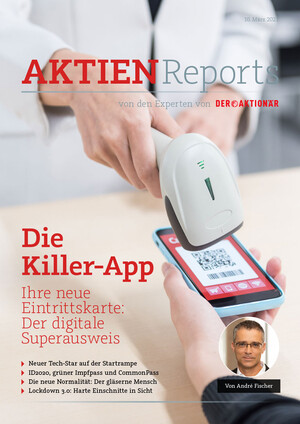 Die Killer-App – der digitale Superausweis
Date of publication: 3/10/2021
Pages: 9
Author: André Fischer
Die Killer-App – der digitale Superausweis

Sehnen Sie sich auch danach, bald wieder Restaurants und Veranstaltungen aufsuchen und auf Urlaubsreise gehen zu können? Wenn ja, dann könnte Sie interessieren, dass diesbezüglich nun endlich eine Lösung in Sicht ist. Konkret: In Kürze wird ein EU-weiter Corona-Impfpass ("digitaler grüner Pass") das Licht der Welt erblicken. Dieser dürfte schlussendlich in einem allumfassenden elektronischen "Superausweis" münden.

André Fischer beschreibt die verborgenen Hintergründe zu diesem historisch beispiellosen Vorhaben und enthüllt den Hauptprofiteur der kurz bevorstehenden Tech-Umwälzungen. Der kommende Börsenstar ist im Besitz einer einzigartigen Anwendung, welche das digitale Megaprojekt überhaupt erst möglich macht. Der hochexplosive Tech-Small-Cap ist in Deutschland notiert.

Lesen Sie jetzt im brandneuen Aktienreport "Die Killer-App – der digitale Superausweis", warum Fischer dem neuen Tech-Favoriten im Rahmen eines ersten Kursziels mittelfristig eine Kursverdopplung zutraut.

Preise können je nach Land variieren. Der Rechnungsbetrag ist innerhalb von 14 Tagen ab Bestelleingang zu begleichen.