You have selected English as the language for this page. Unfortunately, your requested product is currently only available in German.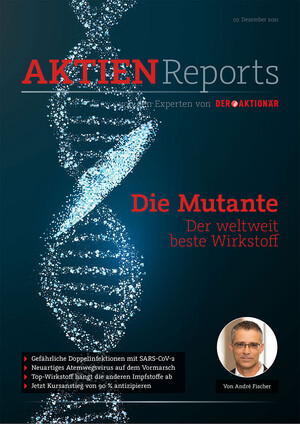 Die Mutante – Der weltweit beste Wirkstoff
Date of publication: 12/7/2021
Pages: 7
Author: André Fischer
Eine amerikanische Metaanalyse ergab, dass 43 Prozent der untersuchten Personen mit SARS-CoV-2 auch eine Infektion mit einem anderen Pathogen aufwiesen. Zuvor hatte eine Erhebung aus Großbritannien den Verlauf von 58 Personen mit einer Doppelinfektion mit Influenza analysiert. Es zeigte sich eine etwa doppelt so hohe Sterblichkeit. Neuerdings leiden viele Menschen an Husten, Schnupfen und Fieber.

Experten warnen jetzt erneut davor, dass es besonders dann gefährlich wird, wenn es zu Doppelinfektionen mit SARS-CoV-2 kommt. Ähnliches könnte in noch größerem Ausmaß Anfang 2022 bevorstehen – falls eine Influenza-Welle auf Covid-19 trifft. In seinem Report "Die Mutante" stellt André Fischer eine Biotech-Firma vor, die über zwei aussichtsreiche Medikamente gegen schwere Atemwegserkrankungen und Influenza verfügt.

Damit nicht genug: Die Gesellschaft ist zudem im Besitz eines Covid-19-Wirkstoffs, der bereits in den nächsten Tagen zugelassen werden könnte. Medizin-Insider stufen dieses Präparat angesichts der hohen Wirksamkeit und der geringen Nebenwirkungen als die derzeit aussichtsreichste Waffe gegen SARS-CoV-2 überhaupt ein. Weitere Details erfahren Sie jetzt im neuen Aktienreport "Die Mutante – Der weltweit beste Wirkstoff".

Preise können je nach Land variieren. Der Rechnungsbetrag ist innerhalb von 14 Tagen ab Bestelleingang zu begleichen.