You have selected English as the language for this page. Unfortunately, your requested product is currently only available in German.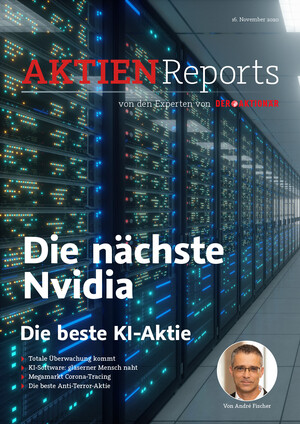 Die nächste Nvidia – die beste KI-Aktie
Date of publication: 11/16/2020
Pages: 12
Author: André Fischer
Der Börsenexperte André Fischer kürte Nvidia in seinem Aktienreport vom 8. Februar 2017 "Die fünfte digitale Welle" (Empfehlungskurs: 112,70 Euro) zur neuen "1.000-%-Aktie der Sensorrevolution". In seinem Report "Die nächste Nvidia" vom 20. Juni 2017 riet Fischer dann dazu, bei Secunet mit einem Limit von 88 Euro einzusteigen. Nun legt Fischer mit seinem neuen 12-seitigen Report "Die nächste Nvidia – die beste KI-Aktie" nach.

Der Experte prognostiziert, dass der aussichtsreiche Tech-Star bis Ende 2021 um über 300 Prozent im Kurs zulegen kann. Die Analyse-Software des Trendsetters im Sektor künstliche Intelligenz ist in der Lage, potenziellen Terror und etwaige Cyberangriffe aufzudecken. Zudem verfügt die extrem schnell wachsende Tech-Firma über eine Technologie, die Regierungen und Krankenhäuser bei der Bekämpfung der Corona-Pandemie einsetzen können.

Während der neue Börsenstar auf den ersten elf Seiten tiefschürfend untersucht wird, stellt Fischer auf der letzten Seite sechs weitere Top-Werte vor. Diese sind in den zukunftsträchtigen Bereichen Data Mining, Terrorbekämpfung, Überwachung und Pandemie-Schutz tätig. Weitere spannende Einzelheiten lesen Sie jetzt im Aktienreport "Die nächste Nvidia – die beste KI-Aktie".

Preise können je nach Land variieren. Der Rechnungsbetrag ist innerhalb von 14 Tagen ab Bestelleingang zu begleichen.