You have selected English as the language for this page. Unfortunately, your requested product is currently only available in German.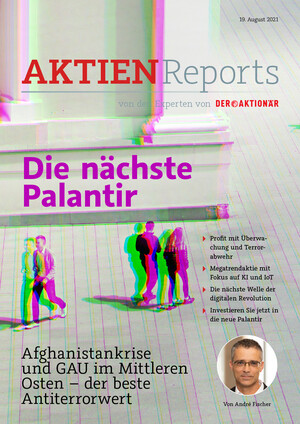 Die nächste Palantir
Date of publication: 8/19/2021
Pages: 8
Author: André Fischer
Im Palantir-Aktienreport "Die nächste Nvidia" empfahl André Fischer Palantir Technologies zu einem Kurs von 15,80 Dollar zum Kauf. Nun gab der Data-Mining-Spezialist bekannt, man würde sich auf einen "Schwarzen Schwan" vorbereiten, indem man Goldbarren ansammelt. Daher gab Palantir diesen Monat über 50 Millionen Dollar für physisches Gold aus.

Grund genug für den Börsenexperten, jetzt mit seinem neuen Aktienreport "Die nächste Palantir" aufzuwarten. Denn: Gold und Antiterror-Aktien sind immer dann besonders aussichtsreich, wenn es zu überraschenden externen Schocks und Aktiencrashs kommt (Stichworte: "nine Eleven" und Lehman-Krise).

Im neuen 8-seitigen Fischer-Report ist zu lesen, wie namhafte Experten im Zuge der Afghanistankrise vor einer neuen gefährlichen Terrorwelle warnen. Wenn Sie wissen wollen, bei welchem Antiterror-Spezialisten das Geschäft neuerdings an allen Fronten explodiert, empfiehlt sich jetzt die Lektüre des Aktienreports "Die nächste Palantir".

Preise können je nach Land variieren. Der Rechnungsbetrag ist innerhalb von 14 Tagen ab Bestelleingang zu begleichen.