You have selected English as the language for this page. Unfortunately, your requested product is currently only available in German.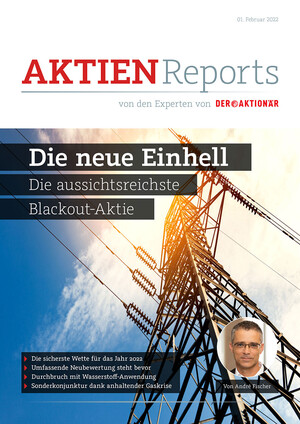 Die neue Einhell
Date of publication: 2/1/2022
Pages: 8
Author: André Fischer
Nachdem André Fischer die "langweilige" Einhell-Aktie zu Kursen von 66,50 und 57,50 Euro empfohlen hatte, konnte der Akku-Spezialist in der Spitze bis auf 227 Euro anziehen. In seinem aktuellen Aktienreport "Die neue Einhell" beschreibt der Börsenexperte einen aussichtsreichen Top-Favoriten, der als unangefochtener Hauptprofiteur etwaiger Stromausfälle angesehen werden muss.

Damit nicht genug: Das deutlich unterbewertete "Green Tech"-Unternehmen setzt massiv auf potenzielle Durchbruchsanwendungen in den Zukunftstrends Wasserstoff, Dekarbonisierung und synthetische Flugzeugtreibstoffe. Sie sind ein auf Substanz ausgerichteter konservativer Investor, der mit der "sichersten Wette für 2022" eine hohe Rendite einfahren will? Dann ist der neue Aktienreport "Die neue Einhell" von André Fischer genau die richtige Lektüre für Sie.

Preise können je nach Land variieren. Der Rechnungsbetrag ist innerhalb von 14 Tagen ab Bestelleingang zu begleichen.