You have selected English as the language for this page. Unfortunately, your requested product is currently only available in German.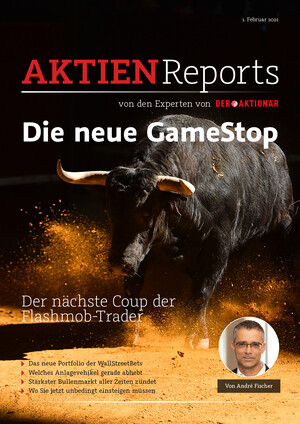 Die neue GameStop
Date of publication: 2/1/2021
Pages: 11
Author: André Fischer
Erscheinungsform: PDF Download
Die neue GameStop

Haben Sie die gewaltigen Kursschübe von GameStop mitverfolgt? Die Papiere des Videospielehändlers schossen von Anfang bis Ende Januar 2021 um schier unfassbare 2.700 Prozent in die Höhe. Auf der Chat-Plattform Reddit hatten sich Millionen von Flashmob-Tradern zusammengefunden. Diese "Hardcore"-Community löste bei der GameStop-Aktie einen gigantischen Short-Squeeze aus.

Jetzt haben die WallStreetBets ein neues Angriffsziel gefunden. Dabei handelt es sich um das am stärksten geshortete Anlagevehikel aller Zeiten. Die Flashmob-Trader haben bereits öffentlich angekündigt, das neue Objekt der Begierde um 3.900 Prozent in die Höhe zu pushen. Sie lesen richtig.

André Fischer weist in seinem brandaktuellen Aktienreport "Die neue GameStop" nach, warum das theoretisch machbar ist und wo Sie jetzt genau einsteigen müssen. Sie sollten sich allerdings beeilen, da der neue Coup der WallStreetBets aus kurstechnischer Sicht bereits die erste Raketenstufe gezündet hat.

Für die Leser des Shortseller-Börsenbriefes (www.shortseller.trade) sind alle Aktienreports von Fischer kostenlos.

Preise können je nach Land variieren. Der Rechnungsbetrag ist innerhalb von 14 Tagen ab Bestelleingang zu begleichen.