You have selected English as the language for this page. Unfortunately, your requested product is currently only available in German.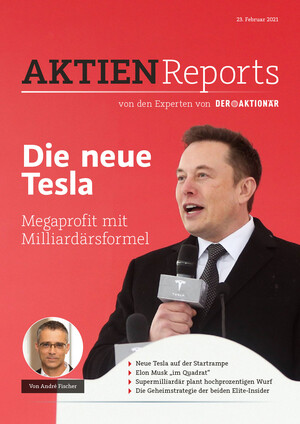 Die neue Tesla
Date of publication: 2/23/2021
Pages: 10
Author: André Fischer
Im neuen Ranking des Bloomberg Billionaires Index kam es erst kürzlich zu einem Paukenschlag. Denn: Tesla-Chef Elon Musk verdrängte Jeff Bezos von seinem Platz als weltweite Nummer 1. Während der Amazon-Gründer auf 194 Milliarden Dollar kommt, kann Musk neuerdings auf ein Vermögen von satten 200 Milliarden Dollar verweisen.

Der Lenker von Tesla arbeitet bei einem zukunftsträchtigen börsennotierten Investment-Vehikel in enger Form mit einem weiteren Supermilliardär zusammen. Diesen Finanzmagnaten bezeichnet André Fischer als "Elon Musk im Quadrat". Der Börsenexperte geht davon aus, dass dieser ultrareiche Top-Investor im weltweiten Milliardärs-Ranking schon bald näher an den E-Auto-Visionär heranrücken könnte.

Das in Deutschland börsennotierte "Prozentblatt" der beiden erfolgreichen Top-Investoren verfügt über eine hochskalierbare Plattformtechnologie, die demnächst tiefgreifende Auswirkungen auf die menschliche Gesellschaft haben dürfte. Profitieren auch Sie von der kurz bevorstehenden Neubewertung dieses wachstumsstarken Geheimfavoriten. Erfahren Sie jetzt weitere Details im 10-seitigen Aktienreport "Die neue Tesla – Riesenprofit mit Milliardärsformel".

Preise können je nach Land variieren. Der Rechnungsbetrag ist innerhalb von 14 Tagen ab Bestelleingang zu begleichen.