You have selected English as the language for this page. Unfortunately, your requested product is currently only available in German.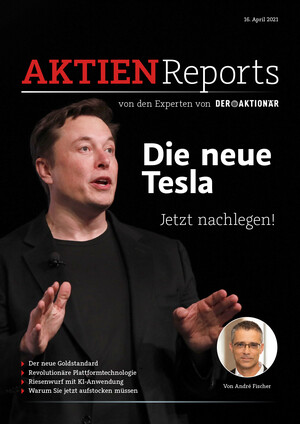 Die neue Tesla / Jetzt nachlegen!
Date of publication: 4/16/2021
Pages: 10
Author: André Fischer
Der neue Aktienreport von André Fischer "Die neue Tesla / Jetzt nachlegen!" stellt ein aktualisiertes Update zum Report "Die neue Tesla" vom 23. Februar 2021 dar. Das Update ist erforderlich geworden, weil die jüngsten erfreulichen Entwicklungen zu einer umgehenden Neubewertung des aussichtsreichen Geheimfavoriten führen sollten.

Mit enthalten in dem Update ist eine brandneue Vervielfacher-Hochrechnung bis zum Jahr 2022. Das Update zeigt zudem auf, wie die Bereiche KI, Big Data, Robotik, Biotechnologie und Brain-Computer-Interfaces jetzt in rasender Geschwindigkeit miteinander verschmolzen werden.

Zwei milliardenschwere Tech-Visionäre haben sich diesbezüglich miteinander vernetzt, um einer etwaigen Durchbruchs-Anwendung zum Erfolg zu verhelfen. Dabei handelt es sich um eine potenziell bahnbrechende KI-Tech-Plattform, die in verschiedenen Bereichen gleichzeitig eingesetzt werden kann. Mehr zu diesem Themenbereich lesen Sie jetzt in dem 10-seitigen Update "Die neue Tesla / Jetzt nachlegen!".

Preise können je nach Land variieren. Der Rechnungsbetrag ist innerhalb von 14 Tagen ab Bestelleingang zu begleichen.