You have selected English as the language for this page. Unfortunately, your requested product is currently only available in German.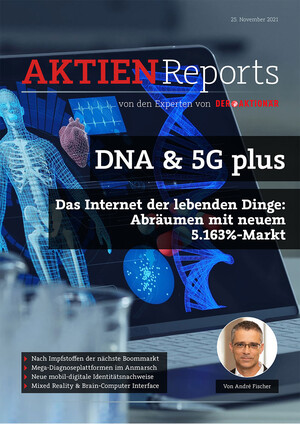 DNA & 5G plus
Date of publication: 11/25/2021
Pages: 10
Author: André Fischer
Nach der Etablierung von mRNA-Impfstoffen als vermeintlichen "Goldstandard" dürfte sich die Genomsequenzierung von Krankheitserregern als neuer Megatrend etablieren. Die Anwendung hilft dabei, die neuen Varianten des Covid-19-Virus zu identifizieren und die Impfstoffwirksamkeit festzustellen.

Der im Aktienreport "DNA & 5G plus" besprochene Hot-Stock hat diesbezüglich eine zukunftsträchtige Anwendung entwickelt, mit welcher der gesamte globale Sequenzierungsmarkt aufgerollt werden könnte. Renommierte Experten rechnen damit, dass sich das potenzielle Marktvolumen für den zukünftigen Tech-Star demnächst um gut 5.200 Prozent ausweitet.

Damit nicht genug: André Fischer erläutert in dem Report, warum die Sektoren Sequenzierung, Genomik und SARS-CoV-2-Datenbanken nur Übergangsbrücken für Mega-Diagnoseplattformen, universell-digitale Identitätsnachweise und das "Internet der lebenden Dinge" sind. Weitere interessante Details erfahren Sie jetzt im neuen 10-seitigen Aktienreport "DNA & 5G plus".

Preise können je nach Land variieren. Der Rechnungsbetrag ist innerhalb von 14 Tagen ab Bestelleingang zu begleichen.