You have selected English as the language for this page. Unfortunately, your requested product is currently only available in German.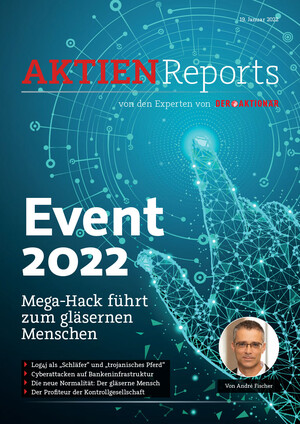 Event 2022: Mega-Hack führt zum gläsernen Menschen
Date of publication: 1/19/2022
Pages: 9
Author: André Fischer
Im 31-seitigen Aktien-Report "Konto-Tod" vom 11. Juni 2021 hatte André Fischer aufgezeigt, mit welchen versteckten Gefahren (Stichworte: Bankkontenzwangsabgabe; "Zypern-Blaupause" aus dem Jahr 2013) Inhaber von Bankeinlagen unter Umständen konfrontiert werden könnten. Während es in dem damaligen Vermögensschutz-Report vorrangig um die Absicherung von Sparkonten und Bankeinlagen ging, eröffnet der Aktienreport "Event 2022" spekulativ orientierten Anlegern die Chance auf eine besonders hohe Rendite.

Lesen Sie jetzt in dem Report, warum eine Ende 2021 getätigte Großsimulation den Boden für ein unerwartetes Mega-Ereignis ("Event 2022") bereiten könnte. Die wachstumsstarke Tech-Firma ist gemäß der Ansicht von Fischer der Hauptprofiteur der sich abzeichnenden globalen Kontrollgesellschaft. Weitere Einzelheiten finden Sie jetzt in dem brandneuen 9-seitigen Aktienreport "Event 2022".

Preise können je nach Land variieren. Der Rechnungsbetrag ist innerhalb von 14 Tagen ab Bestelleingang zu begleichen.