You have selected English as the language for this page. Unfortunately, your requested product is currently only available in German.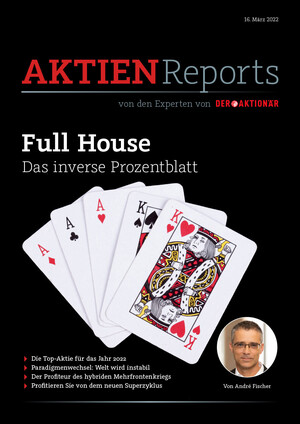 Full House
Date of publication: 3/16/2022
Pages: 8
Author: André Fischer
Im neuen Aktienreport "Full House" geht es um einen schnell wachsenden Sensorspezialisten. Dieser verfügt über ein potenziell revolutionäres Ortungssystem, welches in der Lage ist, gut getarnte Luftfahrzeuge auf große Entfernung aufzuspüren. Im Zeitalter des globalen hybriden Mehrfrontenkrieges ist diese Technik natürlich Gold wert.

Die von André Fischer beschriebene "Full House"-Aktie ist der weltweit einzige Anbieter, der im Besitz eines derartigen Systems ist. Damit nicht genug: Die Top-Aktie für 2022 ist zudem im Besitz einer Anwendung, welche gegen gefährliche Biokampfstoffe eingesetzt werden kann. Auch in diesem Bereich besitzt man ein Alleinstellungsmerkmal.

Lesen Sie jetzt in dem neuen Report, wie die aussichtsreiche Tech-Firma derzeit hinter den Kulissen zu einem marktbeherrschenden Sensor-Giganten umgebaut wird. Wer eine schnelle Verdopplung seines Einsatzes anstrebt, für den ist die Lektüre des neuen Aktienreports "Full House/Das inverse Prozentblatt" jetzt genau die richtige Option.

Preise können je nach Land variieren. Der Rechnungsbetrag ist innerhalb von 14 Tagen ab Bestelleingang zu begleichen.