You have selected English as the language for this page. Unfortunately, your requested product is currently only available in German.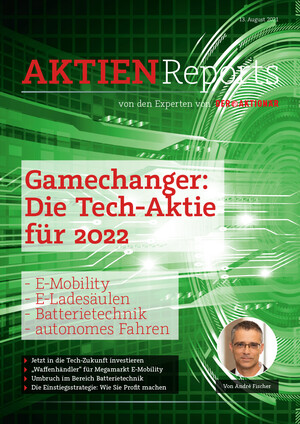 Gamechanger: Die Tech-Aktie für 2022
Date of publication: 8/13/2021
Pages: 9
Author: André Fischer
Börsenüberflieger wie Einhell Germany, Adesso, Secunet und BioNTech konnten in den letzten Monaten mit beachtlichen Wertzuwächsen aufwarten. Für diese Titel hatte André Fischer zuvor in den Aktienreports "Die neue Varta", "Die neue Amazon", "Die Killer-App" und "Die Gates-Akte" besonderes Kurssteigerungspotenzial vorausgesagt.

In seinem neuesten Aktienreport "Gamechanger: Die Tech-Aktie für 2022" geht der Börsenexperte auf einen neuen potenziellen Börsenstar ein, der derzeit mit einer aussichtsreichen Anwendung massive Umwälzungen auslöst. Fischer beschreibt, wie die schlagkräftige Durchbruchstechnologie eine Tech-Revolution in den Zukunftsmärkten E-Mobility, E-Ladesäulen, Batterietechnik und autonomes Fahren einleitet.

Wenn Sie wissen wollen, wie der gewinnstarke "Waffenhändler" gerade einen lukrativen Boommarkt nach dem anderen aufrollt, bietet sich jetzt die Lektüre des 9seitigen Aktienreports "Gamechanger: Die Tech-Aktie für 2022" an.

Preise können je nach Land variieren. Der Rechnungsbetrag ist innerhalb von 14 Tagen ab Bestelleingang zu begleichen.