You have selected English as the language for this page. Unfortunately, your requested product is currently only available in German.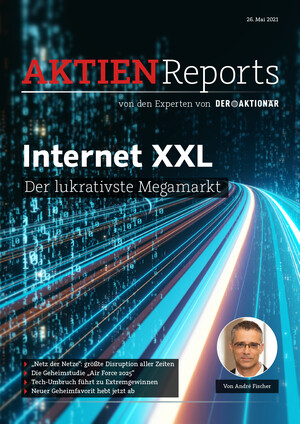 Internet XXL
Date of publication: 5/26/2021
Pages: 9
Author: André Fischer
Kennen Sie die 3.300 Seiten umfassende Studie "2025" des US-Militärs? Diese Erhebung untersucht Szenarien und Entwicklungslinien für die Aufrechterhaltung US-amerikanischer Dominanz im 21. Jahrhundert. Die Studie sagt voraus, dass die herkömmliche Internet-Kommunikation bis zum Jahr 2025 von völlig neuartigen Überwachungstechnologien abgelöst wird.

André Fischer zeigt auf, welcher wachstumsstarke kommende Tech-Star von der größten Internet-Disruption aller Zeiten profitiert. Da der Durchbruch bei der Kommerzialisierung der aussichtsreichen Technologie jetzt unmittelbar bevorstehen dürfte, sollte man mit dem Einstieg nicht zu lange warten. Weitere spannende Details erfahren Sie im neuen 9seitigen Aktienreport "Internet XXL".

Preise können je nach Land variieren. Der Rechnungsbetrag ist innerhalb von 14 Tagen ab Bestelleingang zu begleichen.