You have selected English as the language for this page. Unfortunately, your requested product is currently only available in German.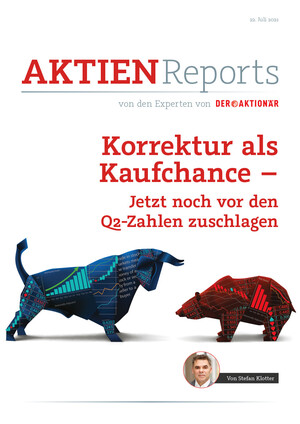 Korrektur als Kaufchance - Jetzt noch vor den Q2-Zahlen zuschlagen
Date of publication: 7/22/2021
Pages: 7
Author: Stefan Klotter
Korrektur als Kaufchance – jetzt noch vor den Q2-Zahlen zuschlagen

Die Korrektur läuft. Dennoch greifen mutige Anleger bereits wieder beherzt zu. Stockpicking lautet die Devise und ein Buy the Dip bei günstig bewerteten Titeln mit hohem Performancepotenzial kann sich als lukratives Investment erweisen.

Charttechnik-Experte und Börsenbriefautor Stefan Klotter beleuchtet in seinem neuen Aktienreport ein Unternehmen, das mit einem KGV von 5 äußerst günstig bewertet ist und mittel- bis langfristig über ein enormes Aufwärtspotenzial verfügt. Anfang August liegen die Q2-Zahlen vor. Das Unternehmen hat bereits im Juni die Erwartungen von sich aus nach oben korrigiert. Renditeorientierte Anleger nutzen deshalb die nächsten Tage, um sich einzudecken. Noch höhere Gewinnchancen verspricht die Optionsscheinempfehlung als Bestandteil des Reports. Korrektur als Chance lautet Ihre Devise? Dann laden Sie jetzt die aktuelle Ausgabe herunter.

Preise können je nach Land variieren. Der Rechnungsbetrag ist innerhalb von 14 Tagen ab Bestelleingang zu begleichen.