You have selected English as the language for this page. Unfortunately, your requested product is currently only available in German.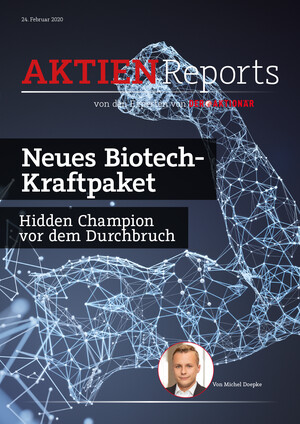 Neues Biotech-Kraftpaket – Hidden Champion vor dem Durchbruch
Date of publication: 2/24/2020
Pages: 7
Author: Michel Doepke
Erinnern Sie sich an PowerCell? Vom AKTIONÄR bei 3,22 Euro empfohlen, zwischenzeitlich auf 32 Euro explodiert. Sie kennen Nel? Die Aktie wurde bereits 2017 in einem Aktienreport vorgestellt. Wer damals der Empfehlung gefolgt ist, konnte in der Spitze 400 Prozent Rendite einfahren. Und jetzt sind wir wieder in Skandinavien, erneut handelt es sich um ein von vielen Analysten noch unbeobachtetes Unternehmen und wieder stehen die Chancen auf eine Outperformance sehr gut.

Die noch junge Biotech-Perle wagte bereits kurz nach ihrer Gründung den Börsengang und war zum IPO bereits mehrfach überzeichnet. Big Pharma hat schon die Fühler ausgestreckt. Kein Wunder, schließlich mischt der potenzielle Highflyer ganz vorne in seinem Markt mit. Seine innovative Technologie ist bestens dazu geeignet, den gesamten Gesundheitssektor zu verändern und einen gewaltigen Schritt in die Zukunft zu hieven. Sie wollen von der sich abzeichnenden Erfolgsgeschichte profitieren? Dann legen Sie sich rechtzeitig den chancenreichen Biotech-Wert ins Depot.

Preise können je nach Land variieren. Der Rechnungsbetrag ist innerhalb von 14 Tagen ab Bestelleingang zu begleichen.