You have selected English as the language for this page. Unfortunately, your requested product is currently only available in German.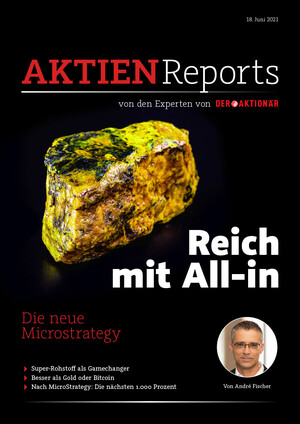 Reich mit All-in
Date of publication: 6/18/2021
Pages: 11
Author: André Fischer
Sind Sie in Ihrem Leben schon einmal "All in" gegangen? Etwas Ähnliches hat zuletzt der Milliardär Michael Saylor gemacht. Der gewiefte CEO von MicroStrategy setzte durch, dass die Softwarefirma gut 92.000 Bitcoin-Einheiten aufkauft. MicroStrategy konnte sich daraufhin im Kurs vervielfachen. Eine stark aufstrebende kleine Rohstofffirma hat die Strategie von Saylor jetzt kopiert. Die Gesellschaft tätigte im physischen Spotmarkt millionenschwere Materialkäufe und landete zudem hochkarätige Bohrloch-Treffer.

Da sich der betreffende Rohstoffsektor aktuell im größten Angebotsdefizit aller Zeiten befindet, haben nun auch superreiche Finanzmagnaten und Investmentgesellschaften damit begonnen, den kommenden Boommarkt massiv zu "cornern". André Fischer beschreibt in seinem neuen 11-seitigen Aktienreport "Reich mit All in", warum ein gewaltiger Short-Squeeze ansteht und in welchen aussichtsreichen Rohstoff-Hot-Stock Sie jetzt einsteigen sollten.

Preise können je nach Land variieren. Der Rechnungsbetrag ist innerhalb von 14 Tagen ab Bestelleingang zu begleichen.