You have selected English as the language for this page. Unfortunately, your requested product is currently only available in German.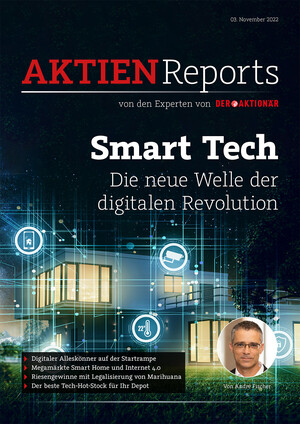 Smart Tech - Die neue Welle der digitalen Revolution
Date of publication: 11/3/2022
Pages: 9
Author: André Fischer
In den USA und in Deutschland ist Cannabis neuerdings in eine Phase der Entkriminalisierung eingetreten. Der Marktforscher BDSA schätzt, dass sich der legale globale Markt für Cannabis von 30 Milliarden Dollar im Jahr 2021 bis auf 57 Milliarden Dollar im Jahr 2026 ausweiten könnte. André Fischer geht davon aus, dass ausgesuchte Nischenanwendungen – wie etwa sensorbasierte Plattformen – vor Zuwachsraten stehen, die noch um ein Vielfaches höher ausfallen. In seinem neuen Aktien-Report "Smart Tech" stellt der Börsenexperte den Hauptprofiteur dieses Umbruchs vor.

Berauschende Aussichten bietet neuerdings allerdings nicht nur der Boomsektor Marihuana, sondern auch die Bereiche Smart Industry, Smart Agriculture und Smart Farming. Der wachstumsstarke Hot-Stock bietet zudem eine High-End-Technik an, welche vielfältige Smart-Home-Applikationen beinhaltet. Damit läutet der Sensorspezialist ein neues Zeitalter im informationstechnisch aufgerüsteten vernetzten Zuhause ein. Es kommt aber noch besser: Im Sektor Medizintechnik gelang ein wegweisender Deal mit einem großen Pharmakonzern.

Da der Auftrag für die gesamte Branche Signalwirkung hatte, bekundeten schnell weitere Pharmaunternehmen ihr Interesse, sodass die Auftragsvolumina deutlich in die Höhe schossen. Weitere aufschlussreiche Informationen finden Sie in dem neuen 9-seitigen Aktien-Report "Smart Tech/Die neue Welle der digitalen Revolution". Sie sollten mit dem Einstieg in den Hot-Stock aber nicht zu lange warten, da der kleinkapitalisierte Wert jetzt kurz vor der Entdeckung stehen dürfte. So gelang vor wenigen Tagen der Ausbruch aus einer wichtigen charttechnischen Konstellation. Zudem könnten die Prognosen zum operativen Geschäft bald nach oben korrigiert werden.

Preise können je nach Land variieren. Der Rechnungsbetrag ist innerhalb von 14 Tagen ab Bestelleingang zu begleichen.