You have selected English as the language for this page. Unfortunately, your requested product is currently only available in German.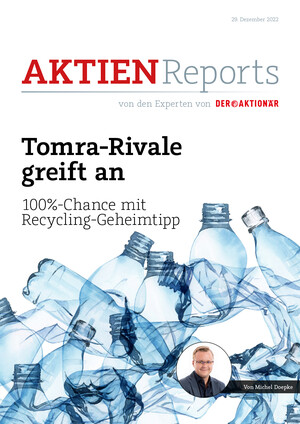 Tomra-Rivale greift an: 100%-Chance mit Recycling-Geheimtipp
Date of publication: 12/29/2022
Pages: 7
Author: Michel Doepke
Plastikmüll bleibt rund um den Globus ein großes Problem. Innovative Lösungen sind gefragter denn je, um die Flut einzudämmen und die immer strenger werdenden Recyclingquoten zu erfüllen.

Tomra Systems ist einer der bekanntesten Gewinner dieser Entwicklung. Mit seinen sensorbasierten Sammel- und Sortierlösungen bedienen die Norweger die verschiedensten Branchen. Berühmtheit hat Tomra Systems vor allem durch seine Pfandrücknahmeautomaten erlangt. Hier sind die Skandinavier klarer Marktführer.

Doch auch Tomra Systems muss sich mit der Konkurrenz auseinandersetzen. Ein relativ unbekanntes, börsennotiertes Unternehmen will dem Weltmarktführer Marktanteile streitig machen.

Noch fliegt der Wert unter dem Radar vieler Investoren. Doch das könnte sich schlagartig ändern. Um welches Unternehmen es sich handelt, erfahren Sie im neuen Aktienreport "Tomra-Rivale greift an: 100%-Chance mit Recycling-Geheimtipp".



Preise können je nach Land variieren. Der Rechnungsbetrag ist innerhalb von 14 Tagen ab Bestelleingang zu begleichen.