You have selected English as the language for this page. Unfortunately, your requested product is currently only available in German.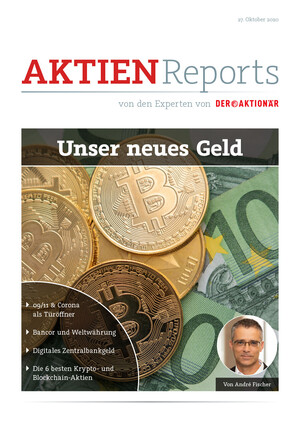 Unser neues Geld – Bancor, Weltwährung & E-Geld
Date of publication: 10/27/2020
Pages: 35
Author: André Fischer
Was halten Sie davon, eine jährliche Gelddividende von einer Notenbank ausgeschüttet zu bekommen? Wie wäre es, wenn jeder Bürger der Eurozone ein digitales Konto bei der EZB hätte? Der 35seitige Aktienreport "Unser neues Geld" erklärt, wie derzeit hinter den Kulissen ein gewaltiger Umbau unseres Finanzsystems vorbereitet wird. Lesen Sie in dem neuen Report von André Fischer, auf welche Weise digitales Zentralbankgeld demnächst über die Blockchain handelbar gemacht wird. In dem Aktienreport ist darüber hinaus zu lesen, warum die Themenbereiche "nine-eleven", Lehman, Schweinegrippe, Corona und Bargeld-Aus eng zusammenhängen.

Der Report "Unser neues Geld" zeigt auf, warum digitales "E-Geld" nur eine Zwischenstufe zu einer neuen Weltwährung sein dürfte. Damit könnte es nach dem Corona-Schock bereits in naher Zukunft zu neuen, überraschenden Verwerfungen kommen. Lesen Sie jetzt in dem neuen Aktienreport, mit welchen sechs Blockchain-Aktien Sie von dem kommenden Krypto-Boom überproportional profitieren können. Diese potenziellen Börsenstars werden am Ende des Reports kurz vorgestellt.

Preise können je nach Land variieren. Der Rechnungsbetrag ist innerhalb von 14 Tagen ab Bestelleingang zu begleichen.