You have selected English as the language for this page. Unfortunately, your requested product is currently only available in German.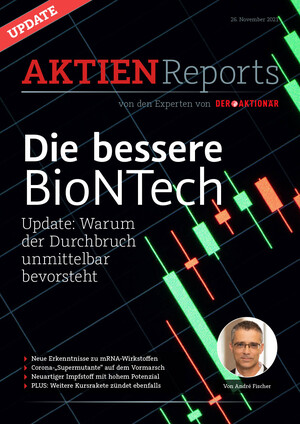 Update: Die bessere BioNTech
Date of publication: 11/26/2021
Pages: 8
Author: André Fischer
Im südlichen Afrika breitet sich mit hoher Geschwindigkeit eine neue Corona-Variante mit der Bezeichnung B.1.1.529 aus. Das Besondere an der Variante ist, dass sie mindestens 10 (wahrscheinlich aber über 30) Mutationen aufweist. Daher ist auch von einer neuen Corona-"Supervariante" die Rede. Der Börsenexperte André Fischer hat die dadurch grundlegend veränderte globale Situation zum Anlass genommen, ein umfassendes Update zu seinem Aktienreport "Die bessere BioNTech" vom 24.09.2021 zu geben.

Denn: Es ist absehbar, dass der dort empfohlene Covid-19-Impfstoffhersteller seinen bisherigen Startgewinn von gut 530 Prozent (im Vergleich zum Report "Die Gates-Akte") demnächst faktisch "über Nacht" kräftig ausbauen kann. Fischer erklärt, warum die Zulassung jetzt unmittelbar bevorstehen könnte, sodass eine Aufstockung der Position überlegenswert erscheint. Weitere aufschlussreiche Details lesen Sie jetzt in dem 8-seitigen Update zur "besseren BioNTech".

Preise können je nach Land variieren. Der Rechnungsbetrag ist innerhalb von 14 Tagen ab Bestelleingang zu begleichen.