You have selected English as the language for this page. Unfortunately, your requested product is currently only available in German.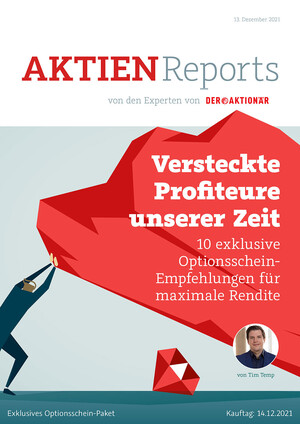 Versteckte Profiteure unserer Zeit
Date of publication: 12/13/2021
Pages: 15
Author: Tim Temp
Das Jahr neigt sich dem Ende zu, Corona beschäftigt uns mehr denn je und auch die Verunsicherung am Kapitalmarkt nimmt in den letzten Wochen spürbar zu. Nachdem die Märkte in diesem Jahr auf immer neue Rekordstände geklettert sind, wird die Luft nach oben immer dünner. Anleger befinden sich immer mehr in einer verzwickten Lage. Gefühlt gibt es für sie nur noch 2 Arten von Aktien: die heiß gelaufenen und allgemein bekannten Krisengewinner aus dem Feld der Digitalökonomie und den Rest, die Corona-Verlierer. Anleger fragen sich daher zunehmend verunsichert: Wo lauern noch attraktive Chancen bei gleichzeitig moderatem Risiko?

DER AKTIONÄR hat daraufhin 10 Gewinner identifiziert, die nicht auf den ersten Blick ersichtlich sind. Diese Aktien sind krisenfest, solide aufgestellt, wachsen und produzieren unverzichtbare Güter. Ein optimaler Branchenmix verringert zudem das Risiko und optimiert die Rendite. Als Krönung wurden exklusive, für diesen Report passende Optionsscheine herausgesucht, um das Maximum aus den gewählten Werten herauszuholen.

Kurzum: Beim Kauf dieses Aktienreports erhalten Sie 10 attraktive Aktien, die von der aktuellen Lage profitieren, und dazu jeweils 2 Handelsstrategien, also 10-mal 2 attraktive Anlageempfehlungen für konservative oder spekulative Anleger. Setzen Sie auf die versteckten Profiteure unserer Zeit, die Ihnen die Chance auf dreistellige Renditen in wenigen Monaten ermöglichen!

Preise können je nach Land variieren. Der Rechnungsbetrag ist innerhalb von 14 Tagen ab Bestelleingang zu begleichen.