You have selected English as the language for this page. Unfortunately, your requested product is currently only available in German.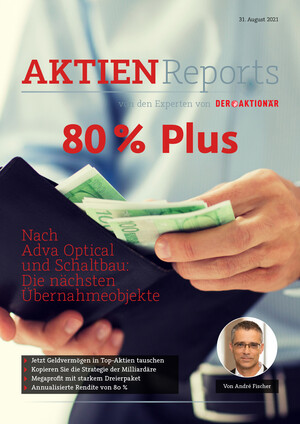 80 % Plus
Date of publication: 8/31/2021
Pages: 8
Author: André Fischer
Der US-Konzern Adtran gab bekannt, den deutschen Glasfaser-Spezialisten Adva Optical übernehmen zu wollen. Zuvor hatte bereits der US-Finanzinvestor Carlyle bei der Verkehrstechnikfirma Schaltbau zugeschlagen. Der Börsenexperte André Fischer hat nun versucht, gewissermaßen den Sitzplatz am anderen Ende des "Spieltisches" einzunehmen und sich gedanklich in die Überlegungen der Firmenjäger hineinzuversetzen.

Dabei ist er auf das nächste potenzielle Übernahmeobjekt gestoßen, welches in seinem neuen 8-seitigen Aktienreport "80 % Plus" unter die Lupe genommen wird. Als Geschenk für alle Leser des Reports nennt Fischer zwei weitere aussichtsreiche Aufkaufkandidaten – einen Gentest-Spezialisten und einen rasant wachsenden Onlinehändler.

Allen drei besprochenen Werten bescheinigt Fischer auf 6-Monats-Basis ein Kurspotenzial von 40 Prozent, woraus sich jeweils eine mögliche annualisierte jährliche Rendite von 80 Prozent errechnet. Weitere spannende Informationen finden Sie jetzt im Report "80 % Plus".

Preise können je nach Land variieren. Der Rechnungsbetrag ist innerhalb von 14 Tagen ab Bestelleingang zu begleichen.