You have selected English as the language for this page. Unfortunately, your requested product is currently only available in German.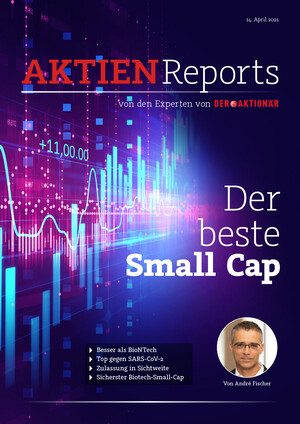 Der beste Small Cap
Date of publication: 4/14/2021
Pages: 12
Author: André Fischer
Der Pharmakonzern Johnson & Johnson hat die Auslieferung seines Corona-Impfstoffs in Europa wegen möglicher Nebenwirkungen verschoben. Eine weitere Hiobsbotschaft: Die Gesundheitsminister von Bund und Ländern einigten sich darauf, dass mit einer ersten AstraZeneca-Dosis geimpfte Menschen unter 60 für die zweite Impfung auf ein anderes Präparat umsteigen sollen. Zudem könnten bestimmte Coronavirus-Mutanten die Schutzwirkung einiger Covid-19-Impfstoffe womöglich durchbrechen.

Wünschenswert wäre also eine faktische "Alles-Wunderwaffe" gegen das Coronavirus, also ein Quasi-Medikament ohne unangenehme Nebenwirkungen, welches effektiv die Infektion mit SARS-CoV-2 verhindert und zudem auch bei der Behandlung von Patienten, die bereits erkrankt sind, erfolgreich eingesetzt werden kann.

André Fischer ist auf eine Biotech-Firma gestoßen, die über ein Präparat mit exakt diesem anspruchsvollen Wirkprofil verfügt. Der Börsenexperte bezeichnet die neue Megatrend-Aktie als den sichersten Small Cap im gesamten Biotech-Sektor. Mit von der Partie sind hier bereits zwei finanzstarke Investorengruppen; eine dritte "Milliardärs"-Adresse könnte jetzt kurz vor dem Einstieg stehen. Weitere Einzelheiten lesen Sie im neuen 12-seitigen Aktienreport "Der beste Small Cap" von André Fischer.

Preise können je nach Land variieren. Der Rechnungsbetrag ist innerhalb von 14 Tagen ab Bestelleingang zu begleichen.