You have selected English as the language for this page. Unfortunately, your requested product is currently only available in German.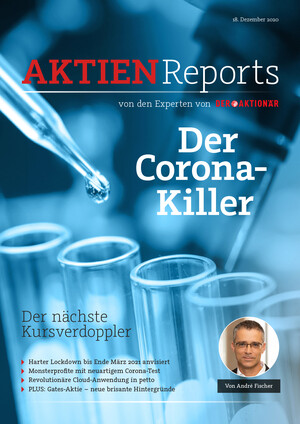 Der Corona-Killer
Date of publication: 12/18/2020
Pages: 11
Author: André Fischer
Nächster Kursverdoppler steht auf der Startrampe: Waffenhändler bei Corona-Tests wechselt auf die Überholspur

Der "Corona-Killer" ist der neue Waffenhändler bei Corona-Massentests. Der Waffenhändler stellt eine absolut unverzichtbare Anwendung zur Verfügung. Das ist auch beim neuen Aktienfavoriten von André Fischer der Fall, da kürzlich ein lukrativer Auftrag eines Großkonzerns an Land gezogen wurde. Fischer prognostiziert, dass dem Hot-Stock kurzfristig zusätzliche Aufträge von weiteren Firmen winken.

Der Tech-Small-Cap hat zudem eine bahnbrechende Cloud-Lösung entwickelt, die mit dem Smartphone des Anwenders verknüpft werden kann. Diese Technologie steht nach Ansicht von Fischer in einem weiteren Boomsektor jetzt kurz vor dem Durchbruch zum Massenmarkt.

Mit enthalten im Aktienreport "Der Corona-Killer": Ein kurzes Update zur Gates-Aktie und eine neue Vervielfacherrechnung zum deutschen "E-Mobility-Killer". ACHTUNG: Potenzielle Kauforders sollten strikt limitiert werden. Für die Leser des Shortseller-Börsenbriefes sind alle Aktienreports von Fischer kostenlos.

Preise können je nach Land variieren. Der Rechnungsbetrag ist innerhalb von 14 Tagen ab Bestelleingang zu begleichen.