You have selected English as the language for this page. Unfortunately, your requested product is currently only available in German.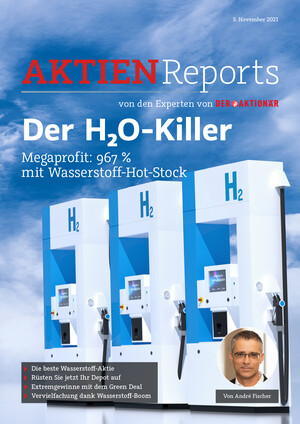 Der H2O-Killer
Date of publication: 11/5/2021
Pages: 8
Author: André Fischer
Die Europäische Union arbeitet derzeit an einer EU-weiten Taxonomie, die in Verbindung mit dem "Green Deal" eine verbindliche Definition nachhaltigen Wirtschaftens vorsieht. In diesem Zusammenhang soll die derzeitige Erdgas-Infrastruktur auf Wasserstoff umgerüstet werden. André Fischer beschreibt in seinem neuen Aktienreport "Der H2O-Killer" die potenziell bahnbrechende Durchbruchstechnologie eines stark aufstrebenden Öko-Nischen-Players.

Die Anwendung ermöglicht die Beimischung von Wasserstoff in Erdgaspipelines. Der aussichtsreiche Small Cap ist nach Ansicht von Fischer zudem der Hauptprofiteur des kommenden Megamarktes im Bereich der LNG- und Wasserstoff-Tankstellen. Der Börsenexperte schätzt, dass dieser gewaltige Umbruch im Zeitraum von 2021 bis 2030 ein jährliches Marktwachstum von bis zu 40 Prozent auslösen könnte.

Wenn Sie wissen wollen, warum der neue Geheimfavorit demnächst zum besten Wasserstoff-Hot-Stock der nahen Zukunft avancieren könnte, bietet sich jetzt die Lektüre des achtseitigen Aktienreports "Der H2O-Killer" an. Ergreifen Sie die Gelegenheit, Ihr Wachstumsdepot bereits heute mit diesem potenziellen Verzehnfacher zu bereichern.

Preise können je nach Land variieren. Der Rechnungsbetrag ist innerhalb von 14 Tagen ab Bestelleingang zu begleichen.