You have selected English as the language for this page. Unfortunately, your requested product is currently only available in German.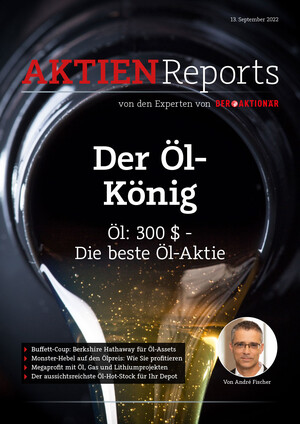 Der Öl-König
Date of publication: 9/13/2022
Pages: 11
Author: André Fischer
Die Nachrichtenagentur Bloomberg ging vor wenigen Tagen auf ein neues Statement von Goldman Sachs ein. Renommierte Goldman-Analysten kommentierten wie folgt: "Unserer Ansicht nach unterschätzt der Markt weiterhin die Tiefe, das Ausmaß und die strukturellen Auswirkungen der Krise. Wir glauben, dass diese noch weitreichender sein werden als die Ölkrise der 1970er-Jahre." In den damaligen hochinflationären Zeiten kam es bekanntlich zu schwerwiegenden geopolitischen Auseinandersetzungen zwischen den USA und dem Iran; der Ölpreis explodierte um 1.200 Prozent von drei auf 39 Dollar je Barrel.

Der Rohstoffexperte André Fischer hat den Paukenschlag der US-Investmentbank zum Anlass genommen, den Aktien-Report "Öl-König" zu schreiben. Die in dem Report behandelte Gesellschaft ist ähnlich wie Berkshire Hathaway aufgebaut. Nur mit dem Unterschied, dass man im Gegensatz zu Warren Buffett noch wesentlich stärker auf aussichtsreiche Öl-Lagerstätten setzt. Da das Management parallel hierzu ein werthaltiges Aktien- und Beteiligungsportfolio aufgebaut hat, würde der "Öl-König" doppelt und dreifach von einem explodierenden Ölpreis profitieren.

Ein weiteres Ass im Ärmel der Firma ist ein Ölprojekt, welches man im Rahmen eines Joint Ventures mit einem US-Öl-Riesen betreibt – dieser wiederum befindet sich im Beteiligungsportfolio von Berkshire Hathaway. Damit aber nicht genug: Der potenzielle Vervielfachungskandidat erkundet derzeit zudem gewinnträchtige Lithiumprojekte mit hohem Ressourcen-Ausweitungspotenzial. Weitere interessante Informationen zu dem behandelten Öl-Hot-Stock finden Sie jetzt im 11-seitigen Aktien-Report "Der Öl-König/Öl: 300 $ – Die beste Öl-Aktie".

Preise können je nach Land variieren. Der Rechnungsbetrag ist innerhalb von 14 Tagen ab Bestelleingang zu begleichen.