You have selected English as the language for this page. Unfortunately, your requested product is currently only available in German.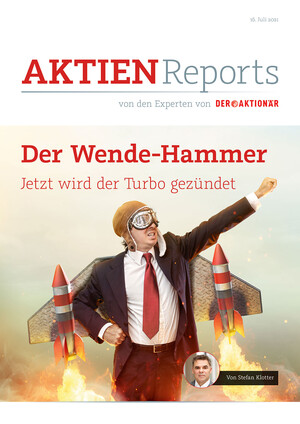 Der Wende-Hammer: Jetzt wird der Turbo gezündet
Date of publication: 7/19/2021
Pages: 7
Author: Stefan Klotter
Altmaier unter Strom – Jetzt vom Mehrbedarf profitieren.

Wirtschaftsminister Peter Altmaier rechnet mit einem deutlich höheren Strombedarf in Deutschland bis 2030 als bisher prognostiziert. Grund sei die starke Zunahme von Elektroautos und Wärmepumpen. Statt von bisher erwarteten 591 Terrawattstunden werden anhand neuer Berechnungen bis zu 665 Terrawattstunden im Jahr 2030 benötigt. Wo soll der zusätzlich benötigte Strom herkommen?

In seinem neuen Aktienreport beleuchtet Charttechnik-Experte Stefan Klotter ein Unternehmen aus dem Energiesektor, das enorm von Peter Altmaiers Erkenntnissen profitieren kann und charttechnisch kurz vor einem bedeutenden Kaufsignal steht. Profitorientierte Anleger können jetzt noch einsteigen. Laden Sie einfach die aktuelle Ausgabe herunter.

Preise können je nach Land variieren. Der Rechnungsbetrag ist innerhalb von 14 Tagen ab Bestelleingang zu begleichen.