You have selected English as the language for this page. Unfortunately, your requested product is currently only available in German.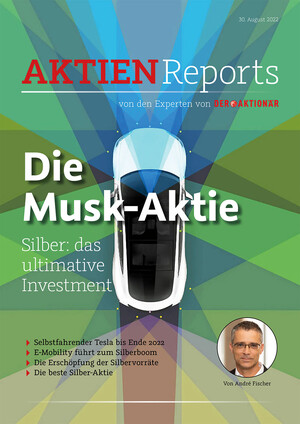 Die Musk-Aktie
Date of publication: 8/30/2022
Pages: 10
Author: André Fischer
Auf einer Energiekonferenz im norwegischen Stavanger kam es jetzt zu einem Paukenschlag. Dort sagte Elon Musk, dass er das Fahrerassistenzsystem Full Self-Driving in großem Umfang einführen wolle. Somit ist absehbar, dass der selbstfahrende Tesla bereits bis Ende 2022 kommt. Zuvor hatte der Tesla-Chef wiederholt angekündigt, im Jahr 2030 satte 20 Millionen Elektroautos verkaufen zu wollen.

Das Problem: Elektroautos sind sehr silberintensiv in der Produktion. Der Elektromotor, das Batteriepack und das Batteriemanagement-System kommen nicht ohne Silber aus.

Das weiße Metall als das Metall mit der höchsten elektrischen Leitfähigkeit stellt eine zentrale Komponente aller modernen vernetzten Fahrzeuge dar. Ein Insider kommentierte jetzt, dass allein die industrielle Seite demnächst das gesamte verfügbare Silber aufbrauchen werde.

Damit ist beim Silber ein noch größerer Angebotsengpass als beim Leichtmetall Lithium absehbar. Musk deutete zuletzt an, dass er bald selbst in die Förderung und Verarbeitung von Lithium einsteigen müsse, um eine ausreichende Versorgung mit dem Rohstoff sicherzustellen. Nun gibt es Hinweise darauf, dass der Tesla-Lenker mit dem Aufbau von Silberlagerbeständen beginnen will; zudem sollen Überlegungen bei der Beteiligung an Silberabbauprojekten laufen.

Der Börsenexperte André Fischer hat die Lagerstätte eines Silberförderers ausfindig gemacht, die sich direkt vor der "Haustür" von Tesla befindet, und zwar in mittelbarer Nähe der Tesla-Gigafactory im US-Bundesstaat Nevada. Lesen Sie jetzt in dem 10-seitigen Aktienreport "Die Musk-Aktie", warum der Silberpreis kurz vor dramatischen Kursschüben gen Norden steht und welche Silber-Aktie Sie sich jetzt unbedingt ins Depot packen sollten.

Preise können je nach Land variieren. Der Rechnungsbetrag ist innerhalb von 14 Tagen ab Bestelleingang zu begleichen.