You have selected English as the language for this page. Unfortunately, your requested product is currently only available in German.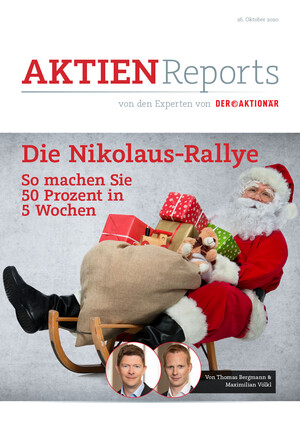 Die Nikolaus-Rallye – so machen Sie 50 Prozent in 5 Wochen
Date of publication: 10/26/2020
Pages: 12
Author: Thomas Bergmann, Maximilian Völkl
Manchmal hilft ein Blick zurück, um die Chancen zu erkennen, die vor einem liegen. Zum Beispiel ist der Nasdaq 100 in den vergangenen 35 Jahren im Zeitraum vom 27. Oktober bis zum 06. Dezember im Schnitt um 5,3 Prozent gestiegen. Das entspricht einem annualisierten Gewinn von satten 60,5 Prozent. Zum Vergleich: Im übrigen Jahresverlauf kam der Index im Durchschnitt auf magere 8,6 Prozent Gewinn. Diese herausragende saisonale Performance können Sie jetzt zu Ihrem Vorteil nutzen.

Denn Maximilian Völkl und Thomas Bergmann vom AKTIONÄR haben in ihrem neuen Aktienreport pünktlich zum Start der Wahnsinnsrallye fünf Aktien im Nasdaq 100 identifiziert, die in den letzten Jahren in den folgenden fünf Wochen enorme Zuwächse erzielt haben. Die Kombination von historisch belegter Outperformance des gesamten Index mit fünf Aktien, die in diesem Zeitraum ebenfalls phänomenal abgeschnitten haben, lässt auf Traumrenditen schließen. Als zusätzlichen Turbo packen die Finanzexperten noch die passenden Faktor-Zertifikate mit in den Report. 5 Aktien. 5 Wochen. Chance auf 50 % Rendite. Holen Sie sich jetzt den Report für die Wahnsinnsrallye 2020.

Preise können je nach Land variieren. Der Rechnungsbetrag ist innerhalb von 14 Tagen ab Bestelleingang zu begleichen.